Pharmacy Academy
Pharmacy Academy has distinguished faculty members with sound academic and research background. The classrooms are well ventilated and modern teaching methodology is used. PA has excellent infrastructure, well equipped laboratories having modern instruments like FTIR, HPLC, UV-Spectrophotometer, PCR, Rheometer etc. The current batch of students has already been placed in Pharmaceutical Marketing, Pharmaceutical Production, Quality Control, Quality Assurance and so on. Faculty members always take care to produce good quality professionals of Pharmacy. Pharmacy Academy provides a stimulating and productive environment for Pharmaceutical education and research. It fosters a healthy academic environment in which the performance, goals and growth of each student is being assessed and developed.
Salient Features
| | |
| --- | --- |
| 1. | Well equipped laboratories with major equipments like HPLC, FTIR, PCR, UV-Vis Spectrophotometer. |
| 2. | Regular visit to multinational industries for better exposure of the students. |
| 3. | Approved animal house facility for research and higher studies. |
| 4. | Celebrations of World Pharmacists Day and Pharmacy Week every year to educate professional responsibilities of budding pharmacists. |
| 5. | Organizing Health Awareness Rally in surroundings to make our society aware about common health issues. |
| 6. | Research papers are regularly published by the students and faculty members in high impact factor journals of National & International repute. |
| 7. | National Seminar / Workshops organized to upgrade the knowledge of students, so as to build bridges of academia industry and academia-academia. |
| 8. | Regular interaction and career counseling of the students. |
| 9. | Emphasis on the social context in pharmaceutical education. |
| 10. | Study tour and visits to multinational industries, Industrial exibhitions, Research organisations etc. |
| 11. | Right balance between theory & Practice. |
Director's Profile
Prof. Navneet Verma, a registered Pharmacist has obtained his B. Pharm degree from Uttar Pradesh Technical University, Lucknow and did his M.Pharm. (Pharmaceutics) from Bundelkhand University, Jhansi. For the last 14 years, he is engagged in teaching in Pharmaceutics to the Undergraduate and Post graduate students. Prof. Verma has received number of awards and recognitions from various societies. He was assigned and has completed number of administrative responsibilities of the University successfully. He has obtained his Ph.D. degree in Pharmaceutical Sciences. Twenty Two M.Pharm. dissertations were supervised by him and four Ph.D. degree has been awarded in his supervision. Six research scholars are enrolled for Ph.D. degree under his supervision. Prof. Verma is an active member of reviewer board of various National and International journals. He has, to his credit, 40 research papers in journals of National & International repute and 12 papers have so far been presented in various Conferences, Seminars and Workshops. He has also organized a number of seminars, conferences and academic events in the University successfully and is an active member of various professional bodies in India. He is also acting as Additional Controller of Examinations, of the University.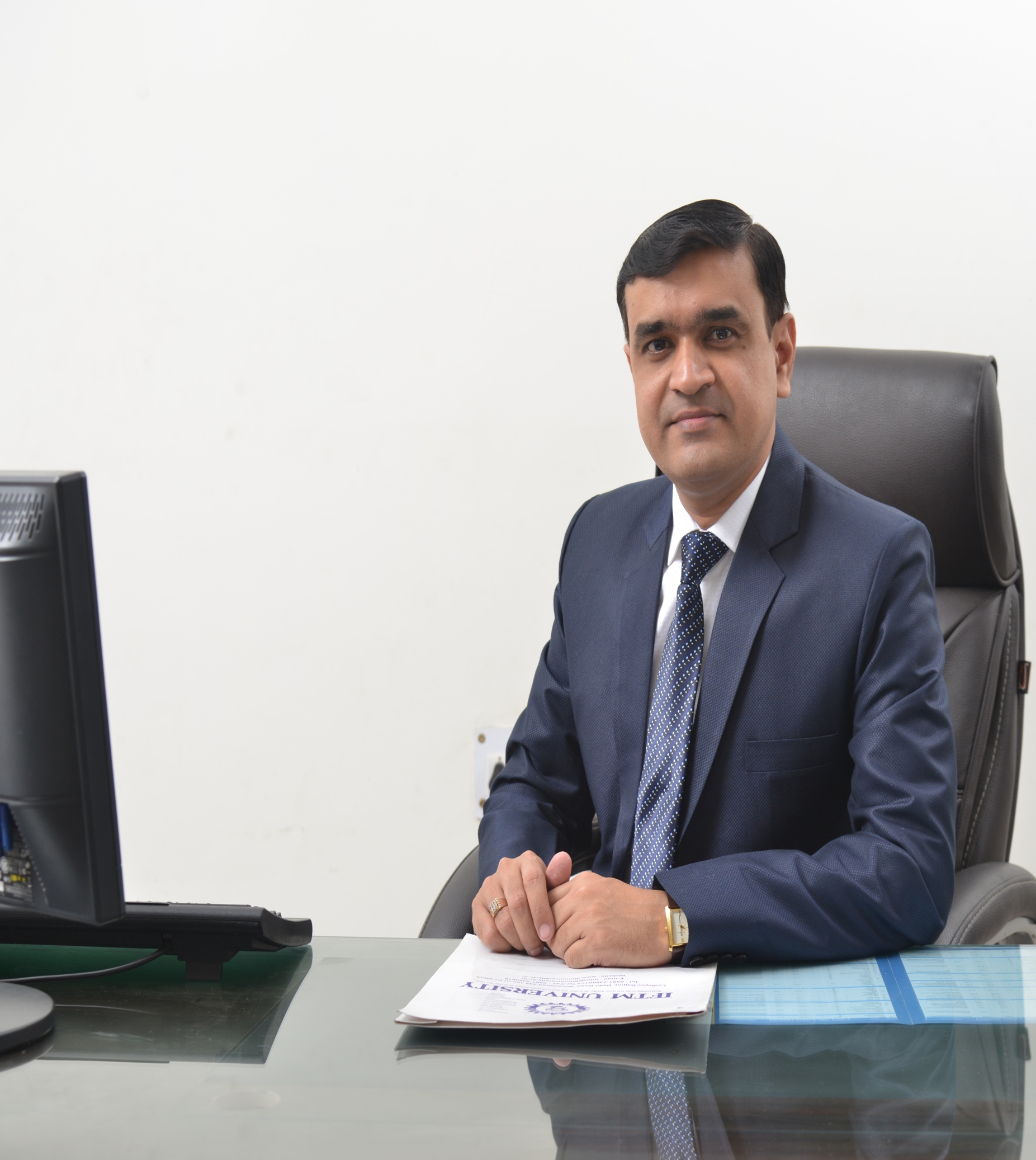 Prof. Navneet Verma
Director
Pharmacy Academy
Course Details
COURSE NAME
ELIGIBILITY
TUITION FEE PER ANNUM (Rs.)
EXAM FEE PER ANNUM (Rs.)
DURATION
SYLLABUS
Contact Details: 9451751810, 7060251066
D.Pharm.
10+2 pass with Physics Chemistry Maths/Biology
125000
10000
2 Years



B.Pharm.
10+2 pass with Physics Chemistry Maths/Biology
115000
10000
4 Years



B.Pharm. (Lateral Entry)
Minimum 50% in D.Pharm
115000
10000
3 Years
OTHER FEE
Processing Charge (One Time)
Rs. 5,000/-
Hostel Fee (including Fooding & Lodging)
Rs. 35,000/- p.a.
Bus


FREE
Uniform (Summers & Winters)
ID Card Cum Library Card