School of Computer Science & Applications
The School of Computer Science & Applications is well equipped with high end computers, latest software & state of the art IT infrastructure. All computing resources are interconnected with high speed internet. The School has well qualified faculty, having sound academic background. A good number of alumni are associated working with notable and well established companies across the country and abroad. The course structure is carefully redesigned and updated by the University from time to time keeping in view the ever changing trends in IT industry. The course focuses not only on syllabus coverage but also emphasizes on students hands on experience by making projects on current technology. School is having air-conditioned laboratories equipped with high-end machines for each individual student with internet, web application facilities accessible on LAN to provide students hands on experience on latest software and technology tools used in the Industries. All the laboratories are equipped with Printers & other equipment. The School has well equipped Language lab with most modern audio, video and ICT facility for training the students on soft skills such as pronunciations, verbal communication, and listening comprehension. Eminent academicians, renowned scientists and researchers are invited for interaction and knowledge sharing with the students.
Salient Features
| | |
| --- | --- |
| 1. | More than 20 research papers published in journals of repute. |
| 2. | Regular visits of experts from various Universities and Corporate sectors like HCL, Wipro, Infosys etc. |
| 3. | Special labs of the Schools are Unix Lab, RDBMS Lab, Graphics Lab etc equipped with ultramodern facilities. |
| 4. | Awareness programmes are conducted on teaching-learning process. |
| 5. | OFC Connected Computer lab for the practical knowledge of the students. |
| 6. | Key skills imparted to students include Mobile App development, Networking, Web Designing area for Collaborative learning. |
| 7. | Regular interaction and career counseling of each student. |
| 8. | Smart Classrooms with Audio-visual facility. |
| 9. | All instruments available with latest configuration to impart practical cum theoretical knowledge on subject matter. |
| 10. | Expert lectures by Eminent Professors/ Scientists from premier institutions as IIT, Roorkee; Jamia Milia Islamia / JMI University, Delhi; GBPUAT, Pantnagar; IIT Ropar; CDRI Lucknow; DRDO Kanpur, Lucknow University, Lucknow, AMU Aligarh, BHU Varanasi etc. |
Director's Profile
Prof. Rahul Mishra received MCA Degree from KNIT Sultanpur in 1992 and MBA from IGNOU, New Delhi in 2012. He is Ph.D. in Computer Science & Engineering. His research interest includes Database Management Systems, Real-Time Systems and Distributed Real-Time Database Systems. He has published 12 research papers in International/ National journals and presented 7 papers in different Conferences. He has written number of books on various Computing and Management Topics. Currently he is engaged in writing books on Operating System and Principles of Programming Language in collaboration with his associates. Over the span of 27 years, he was associated with both industry and academia. He has worked on multiple projects in diverse areas such as Software Consulting, Software Development, Configuration Management, Software Quality Assurance etc. He is also having an assignment of Director, Admissions and is playing a vital role in the overall growth of IFTM University.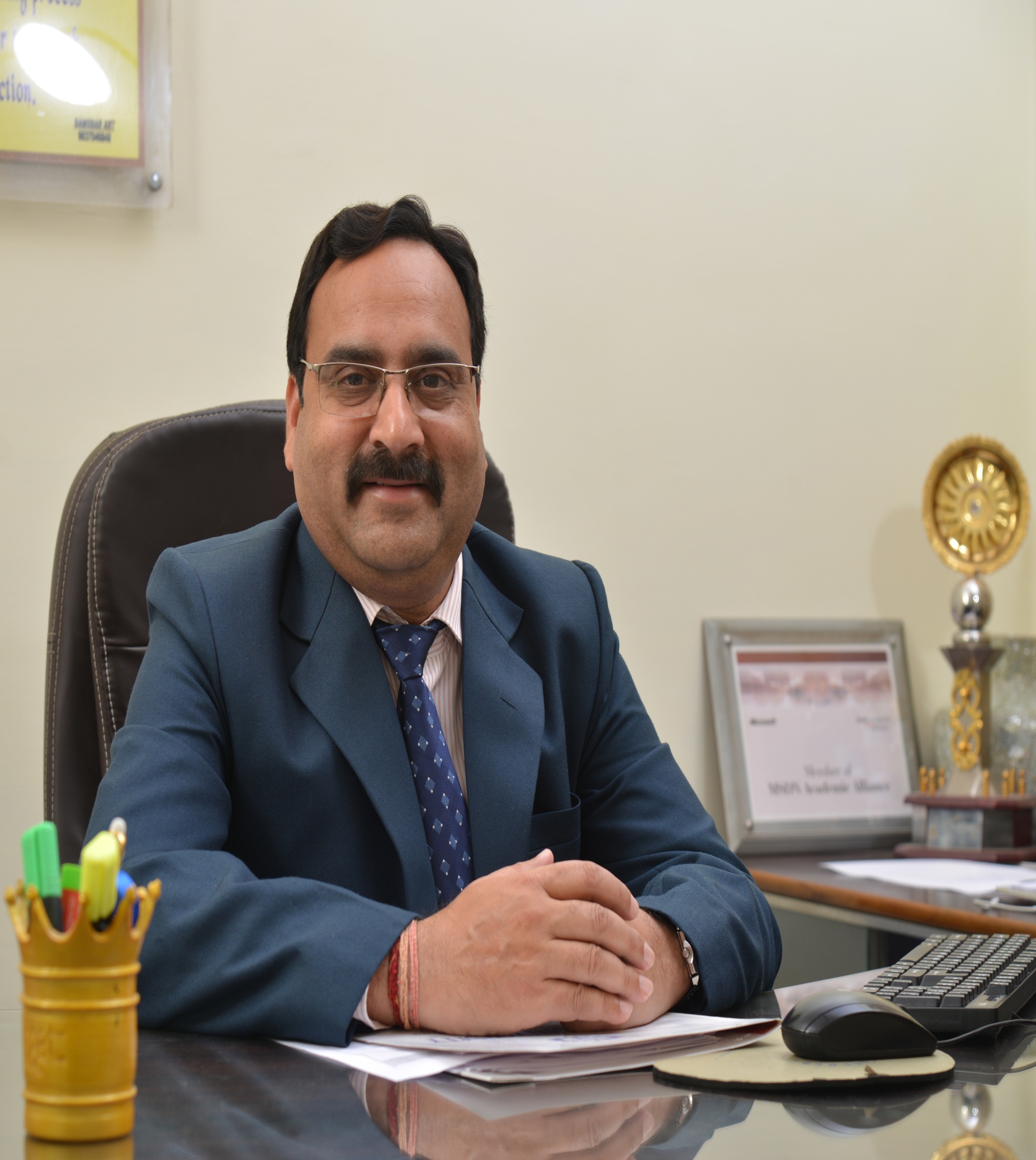 Prof. (Dr.) Rahul Kumar Mishra
Director
School of Computer Science & Applications
Course Details
COURSE NAME
ELIGIBILITY
TUITION FEE PER ANNUM (Rs.)
EXAM FEE PER ANNUM (Rs.)
DURATION
SYLLABUS
Contact Details: 9319160550, 9927048126, 9410013261, 9410457759
PGDCA
Minimum 45% (40% for SC/ST) at Graduation in any Stream.
10000
10000
1 Year


B.Tech. (Lateral Entry)
Minimum 50% in 3 year Diploma in Engg. or B.Sc. (PCM)
92000
10000
3 Years
B.Tech. (Computer Sc. & Engg.)
Minimum 45% (40% for Sc/ST) at 10+2 level with Physics Chemistry and Maths.
92000
10000
4 Years


BCA
Minimum 45% (40% for SC/ST) in 10+2 with Mathematics at 10th level
37000
10000
3 Years


M.Tech. (Computer Sc. & Engg.)
Minimum 55% in B.Tech.(CS) or Minimum 55% in MCA
87000
10000
2 Years


MCA
Minimum 45% (40% for SC/ST) at Graduation in any stream with Maths at 10+2 or BCA
60000
10000
2 Years



OTHER FEE
Processing Charge (One Time)
Rs. 5,000/-
Hostel Fee (including Fooding & Lodging)
Rs. 35,000/- p.a.
Bus


FREE
Uniform (Summers & Winters)
ID Card Cum Library Card
Value Added Courses
| | |
| --- | --- |
| Preamble & Guidelines | |
| VAC-Basic Concept of Machine Learning using Python(ANNEXURE '1') | |
| VAC-(ANNEXURE '2') | |
| Preamble & Guidelines | |
| VAC-MATLAB BASICS(ANNEXURE 'A') | |
| VAC-BASICS OF LAPTOP MAINTANANCE AND OS INSTALLATION(ANNEXURE 'B') | |
| VAC-OFFICE AUTOMATION TOOLS & TECHNIQUES(ANNEXURE 'C') | |
| VAC-BIG DATA(ANNEXURE 'D') | |
| VAC-COMPUTER PROFICIENCY(ANNEXURE 'E') | |
| VAC-DESKTOP PUBLISHING(ANNEXURE 'F') | |
| VAC-BASIC CONCEPT OF MACHINE LEARNING USING PYTHON(ANNEXURE 'G') | |
| VAC-LATEST WEB APPLICATION DEVELOPMENT TECHNIQUES(ANNEXURE 'H') | |