School of Business Management
The School, formerly known as Department of Management Studies was established in the year 1996 under the aegis of "Institute of Foreign Trade & Management (IFTM)" and had been offering BBA, MBA & MIB programmes of Rohilkhand University, Bareilly, until 2000 when MBA programme came under the affiliation of Uttar Pradesh Technical University, Lucknow. However, in 2010, it has been reorganized as School of Business Management (SBM) after IFTM was granted the University status by U.P. Government vide IFTM University Act No. 24 of 2010. SBM has become one of the most reputed and sought-after centers of education and offers diverse courses ranging from Diploma, UG, PG to PhD. The School has been a constant contributor in the field of management through its research and development output. Doctoral research facilities are available in various areas of Management and Commerce such as Finance, Marketing, Human Resource Management, International Business, Information Technology, Operations Management, Entrepreneurship Development, Banking & Insurance, Accounting & Control etc.
Salient Features
| | |
| --- | --- |
| 1. | Qualified, team-spirited and research oriented faculty members, with rich academic and industry experience. |
| 2. | Faculty development programmes, Guest Lectures, Workshops, Conferences and Seminars are organized on contemporary topics as a regular feature. |
| 3. | The School has wide research groups devoted to disseminate research findings through academic publications in peer reviewed journals. There have been number of publications in national and international journals of repute with high Impact Factors. |
| 4. | A fully dedicated "Student Development Cell" for imparting key skills to the students who organize Managerial, Analytical, Entrepreneurial and Behavioural skill alongwith the extension activities including social outreach programme and thus, providing exposure to practical and real life situations. |
| 5. | The school has the facility of State of the Art computer lab with latest software and hardware . |
| 6. | Association with Professional Societies like Association of Indian Management Schools (AIMS), All India Management Association (AIMA) and Indian Commerce Association (ICA) etc. |
| 7. | Industry oriented programmes and various skill based programmes for experiential learning, critical & analytical thinking thereby providing holistic development to the building professionals. |
| 8. | Recreational and educational tours to various Industrial units for better Industrial exposure. |
| 9. | A proud alma mater of number of entrepreneurs, executives and professionals serving in leadership positions in the best known organisations in India and also around the world in key business functions of Sales, Marketing, Operations, Human Resources, Consulting, Information Technology and Finance among others. |
| 10. | Hospitality education is being offered as a right career springboard for the young in the field of Hospitality Education through our networking with leading hotels and restaurants. |
Director's Profile
Prof. Nisha Agarwal holds MBA degree and Ph.D. in Business Administration from MJP Rohilkhand University, Bareilly. She earned M.Sc. (Mathematics) from Meerut University as a topper. A venerable academician, Prof. Agarwal has over 20 years of teaching experience at UG and PG level. She is a distinguished researcher, having published and presented more than 45 research papers in journals of National and International repute and in conferences. Six research scholars have been awarded Ph.D. degrees under her supervision and three research scholars are currently enrolled for Ph.D. Prof. Agarwal earnestly believes in the importance of leveraging digital ways of imparting quality education, with the focus on driving student growth. She strives to develop and operationalise such digital/virtual ways of working under the dictum-"Go Digital, Go Beyond". She continues to remain an active member of various organizing committees running in the University, and is a trusted advisor to various academic, administrative and research departments.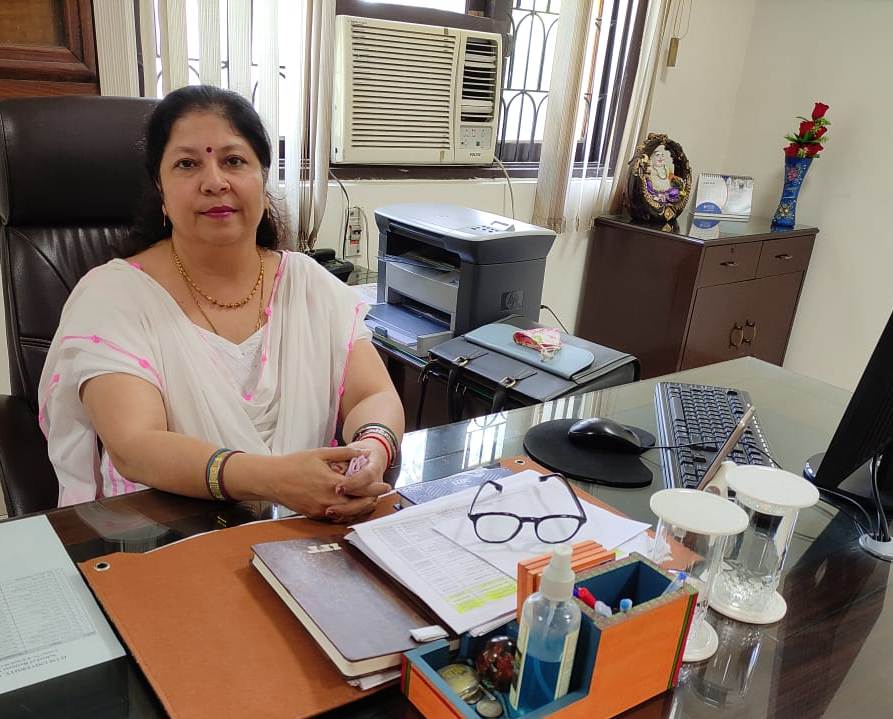 Prof. Nisha Agarwal
Director
School of Business Management
Course Details
COURSE NAME
ELIGIBILITY
TUITION FEE PER ANNUM (Rs.)
EXAM FEE PER ANNUM (Rs.)
DURATION
SYLLABUS
Contact Details: 9410071506, 9897093192, 9457269572, 9760200575
B.Com. (Hons.)
Minimum 45% (40% for SC/ST) in 10+2.
37000
10000
3 Years



B.Com.
Minimum 45% (40% for SC/ST) in 10+2.
12000
5000
3 Years



BBA
Minimum 45% (40% for SC/ST) in 10+2.
37000
10000
3 Years



MBA
Minimum 45% (40% for SC/ST) in Graduation or valid MAT/CAT Score.
107000
10000
2 Years



M.Com.
Minimum 45% (40% for SC/ST) in Graduation with Commerce
15000
5000
2 Years



Diploma (Hotel Mgmt)
12th Pass in any Stream
20000
10000
1.5 Years



Bachelor of Hotel Mgmt. & Catering Technology
Minimum 45% (40% for SC/ST) in 10+2 or Diploma in HM
80000
10000
4 Years



Master of Travel & Tourism Management
Minimum 45% (40% for SC/ST) in Graduation.
85000
10000
2 Years



OTHER FEE
Processing Charge (One Time)
Rs. 5,000/-
Hostel Fee (including Fooding & Lodging)
Rs. 35,000/- p.a.
Bus


FREE
Uniform (Summers & Winters)
ID Card Cum Library Card
Value Added Courses
| | |
| --- | --- |
| VAC Circular | |
| Preamble & Guidelines | |
| VAC on Soft Skills (Communication Skills) | |
| VAC on Aptitude Test (Cognitive Skills) | |
| VAC on Computer Basics (Word Processing) | |
| VAC on Excel Skills (Accounting in Business) | |
| Registration Link | |