School of Agricultural Sciences & Engineering
School of Agricultural Sciences and Engineering (SASE) offers high quality education with well qualified, experienced and highly trained and dedicated team of faculty members attracting talented youth to face the complex challenges of the Indian agriculture. School of Agricultural Sciences and Engineering has well designed magnificent building, with state-of-art facilities. School provides a platform for strong learning environment that nurtures and enhances the personality of our students. Alumni of the School of Agricultural Sciences are well placed in Teaching profession and Research, Manufacturing Units and corporate sectors. Some of the students are acting as successful entrepreneur and giving their valuable contributions in agriculture sector. With the kind of faculty and facilities, SASE is the right place for the prospective students, who desire to pursue studies in the area of Agriculture.
Salient Features
| | |
| --- | --- |
| 1. | Overall development of students through quality and exposure oriented teaching. |
| 2. | Syllabi proposed by ICAR for different state agricultural Universities on the recommendation of Fifth Dean√Ę'?¨'?Ęs Committee report. |
| 3. | Arrangement of guest lectures, seminars and workshops with experts from other universities and industry. |
| 4. | Modern student instructional farm and ultra modern library facilities. |
| 5. | Modern laboratories equipped with all advanced Instruments. |
| 6. | Special assistance is provided to students preparing for higher studies and other competitive examinations. |
| 7. | Personality development of students by co-curricular and extracurricular activities. |
| 8. | Ultra modern computer lab connected with high speed LAN and having Computers with latest configuration. |
| 9. | Educational tours to different ICAR institutes / agricultural industries / KVKS / Agricultural Universities & multinational Industries for better Industrial exposure. |
Director's Profile
Dr. Virendra Singh has completed his Master of Science in Agriculture (Agronomy) in the year 2000 from CCS University, Meerut, qualified ICAR-NET in 2004 and completed Ph.D. in 2016. Dr. Singh has more than 15 years of experience in various corporate and also in teaching & research. He has published 26 research papers, 01 book, 04 book chapters, and popular articles in different national and international journals of repute. Dr. Singh received the "Young Scientist Award" in 2018 for their outstanding contribution in the field of Agronomy. His main thematic research area is "nutrient management and cropping system research" and has supervised 25 PG students and 02 Ph.D. scholars are registered under his supervision. Dr. Singh is actively involved in extension activities and delivered several radio and expert talks for the benefits of the community.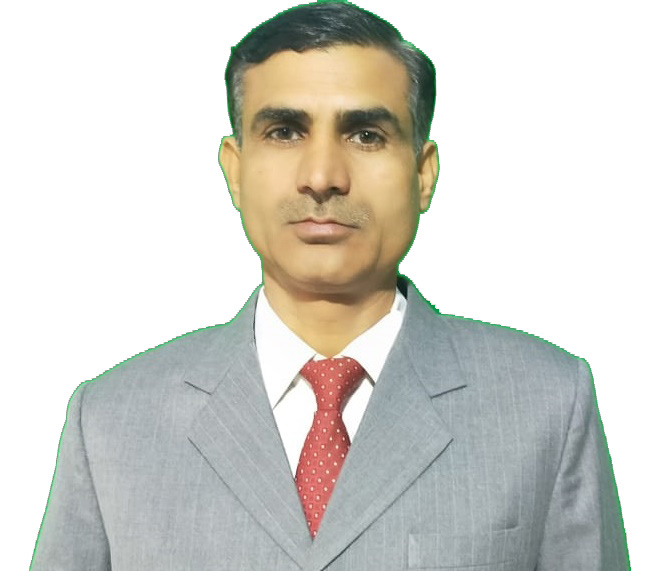 Dr. Virendra Singh
Director
School of Agriculture Science & Engineering
Course Details
COURSE NAME
ELIGIBILITY
TUITION FEE PER ANNUM (Rs.)
EXAM FEE PER ANNUM (Rs.)
DURATION
SYLLABUS
Contact Details: 8477061540, 9927256031, 9758531198
B.Tech. (Agriculture Engineering)
Minimum 45% (40% for SC/ST) at 10+2 level with PCM/PCB/ Agriculture
92000
10000
4 Years


B.Sc. (Hons.) AG
Minimum 45% (40% for SC/ST) in 10 + 2 with PCM/PCB/Agriculture
42000
10000
4 Years


M.Sc. (Agronomy)
Minimum 45 % (40% for SC/ST)in B.Sc. (Agriculture)
45000
10000
2 Years


M.Sc. (Horticulture) Veg Science
Minimum 45 % (40% for SC/ST)in B.Sc. (Agriculture)
45000
10000
2 Years


M.Tech. (Farm Machinery & Power Engineering)
Minimum 55% in B.Tech. Agricultural
87000
10000
2 Years


M.Tech. (Soil & Water Conservation Engineering)
Minimum 55% in B.Tech. Agricultural
87000
10000
2 Years


M.Tech. (Process & Food Engineering)
Minimum 55% in B.Tech. Agricultural
87000
10000
2 Years


M.Sc. (Horticulture) Floriculture & Landscaping
Minimum 45 % (40% for SC/ST)in B.Sc. (Agriculture)
45000
10000
2 Years


OTHER FEE
Processing Charge (One Time)
Rs. 5,000/-
Hostel Fee (including Fooding & Lodging)
Rs. 35,000/- p.a.
Bus


FREE
Uniform (Summers & Winters)
ID Card Cum Library Card